Events
Parent Information Nights were held in January and February 2023 at four high school sites to provide an overview of CTE programs and assist families with career exploration. Please see presentation below:
Career Fair 2019 was held Wednesday, February 13 from 5:30-8:00 p.m. at Bolsa Grande High School. The free event featured career and technical education pathway demos, college representatives, business and industry partner representatives, career guidance presentations, and guest speakers from a variety of professions.
This year, the CTE Department sponsored round trip bus transportation to Bolsa Grande from each of the other comprehensive high schools. The event was planned for 7-12 grade students and parents. Please see click below to view guest speaker presentations from our industry professional partners:
Automotive Technology: Noemi Castro, OCADA
Business, Finance and Marketing: Alejandra Landa, OWIT
Computer Science: John Driscoll, Jason Martinez, Naked Development
Digital Media Arts: Angela Gomez-Holbrook, CCCD
Education: Steve Bautista, SAC
Engineering: Jennie Lee, Envise
Hospitality and Food Services: Chelsea Hildieth, Raul Bermudez, Hyatt Regency OC
Medicine: Dr. True McMahan, Garden Grove Hospital
Public Safety: Reyna Rosales, Garden Grove Police Dept.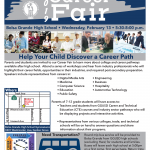 ---
Career Fair 2018 was held Monday, January 22 from 5:30-8:00 p.m. at Rancho Alamitos High School.
Career Fair 2017
Approximately 450 Garden Grove Unified School District students and parents attended the district's annual Career Fair on Monday, January 23, from 5:30 p.m. to 8:00 p.m., in the Bolsa Grande High School gymnasium.  At this free event, attendees enjoyed presentations by a variety of business and industry professionals about their careers, discovered career guidance and exploration options, and learned about district Career and Technical Education (CTE) programs through student presentations and interactive pathway showcases.
 This event helped students explore their college and career options and facilitated the decision making process about their futures.  Parents played an instrumental role in helping their sons and daughters examine the many pathways to a successful future. This Career Fair was a great opportunity for students and parents to learn about a variety of career options and research particular areas of interest. Free gift bags were distributed to attendees. Interpretation in Spanish, Vietnamese, and Korean was available. Representatives from colleges and non-profit post-secondary CTE programs were also in attendance.

To view the Industry Speaker presentations, please click on the topics below:
Business, Finance, and Marketing: Elizabeth Arteaga, OC Small Business Development Center
Computer Science: Charlotte Augenstein, Microsoft
Digital Media Arts: Susan Tran, Sunrise Seagull Productions  and   Alfredo Alfaro, DreamWorks intern
Education: Steve Bautista, Santa Ana College  and  Jason Bavacqua, GGUSD
Engineering: Alyssa Emerson, Cal Poly Pomona
Hospitality: Matthew Goddard, Hyatt Hotel
Medicine: Dr. True McMahan, Garden Grove Hospital
Public Safety and Law Enforcement: Kris Backouris, Garden Grove Police Department

View College and Career Planning presentation by CCGI Career Fair 2016
Click to view video highlights of Career Fair 2016