Student Success Stories
Argo Succeeds as Creative Entrepreneur
Garden Grove HS alumnus Sang Kwon (Class of 2022) took a variety of CTE pathway courses while in high school: Medical, Computer Science, and Digital Media Arts. In 10th grade he started his own home-based business based on his passion for entrepreneurship and his interest in fantasy tabletop role-playing games. He began designing and creating Dungeons and Dragons and Warhammer terrain, dice, and tabletop gaming accessories. He soon expanded with a warehouse, numerous employees, and hundreds of specialty 3D printers. Today, he has found great success running his company, 3D Egos, through online retail outlets such as Etsy and Amazon, and has expanded to offer custom products. To date, his Etsy sales have exceeded 70,000 items. Besides running his own business, Sang is also a full-time engineering student at CSU Long Beach. As he further develops his expertise in the engineering field, his creativity and entrepreneurial mindset ensure he will continue to succeed as one of the region's diverse innovators of tomorrow.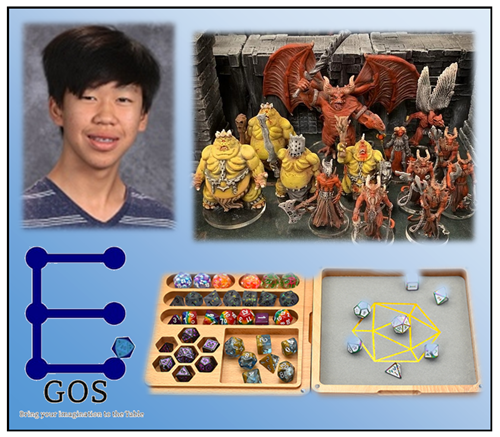 Former HS Auto Students Find Success in College and Careers
Thanks to a robust partnership between Garden Grove USD and North Orange County Community College District, our CTE students find a seamless pathway to post-secondary success in their chosen fields. Former HS students who completed our Automotive Technology pathway are now thriving as they complete their education at Cypress College and find high-wage, high-demand employment at regional dealership service centers. Rancho alumni Jonathan Vasquez and Damian Garza won 1st place their senior year for the Cypress College High School Tech Competition, and are now enrolled in the Cypress College Automotive Technician Program. Former Santiago High School alumna Melanie Barajas completed the automotive pathway in high school, enrolled in the Cypress College T-Ten program, and now is finding success working for Miller Toyota. 
Pictured left to right: Jonathan Vasquez, Damian Garza, Melanie Barajas
For more information on the Cypress College Automotive Technology programs, visit Cypress College Automotive Technology.
La Quinta HS Biotechnology Students Invent Diagnostic Diaper to Reduce Infant Death
Thanks to the leadership of instructor and HOSA advisor Angela Williams, our La Quinta HS Biotechnology students launched, brainstormed, researched, recorded, and edited our innovation, BabyRubin, that detects bilirubin in diapers - all within 3 weeks!
Alynna Santos Becomes GGPD Explorer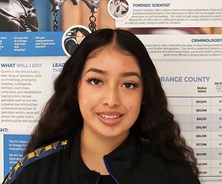 Garden Grove High School senior Alynna Santos has joined the Garden Grove Police Department's Police Explorer Program. Alynna is in the Criminal Justice career pathway: as an 11th grader she took Criminal Justice and this year is taking the capstone course, CSI Forensic Science.
The Explorer program offers young people the opportunity to experience how a police department functions and what it takes to pursue a career in public safety. Twice a year, new Explorer recruits attend a formal academy where they study criminal law, radio codes, traffic control, first-aid, military drill, police procedures, and other law enforcement techniques. After successful completion of the Academy, Explorers receive a certificate of completion and are then eligible for advancement.
Police Explorers perform a variety of community services such as crowd control at parades, festivals, and special events. Occasionally, they assist police officers in emergency situations such as searching for missing children, searching for evidence, or assisting at major disaster scenes. Explorers are also eligible to go on department ride-alongs. This opportunity allows the participant to observe police officers as they perform their duties in the field. 
Alynna describes her experience in the program as "life changing," and reflects that, "The Explorer program has opened my eyes to what law enforcement is all about and how much time and commitment the job takes." She believes the program has built her hope and self-confidence, and her goal is to pursue a career in public safety to promote positive community change. 
Tiffany Le Excels at UCLA
Tiffany Le, La Quinta HS Class of 2020, is now studying Business Economics at UCLA, minoring in Accounting and Social Data Science. In high school, Tiffany completed both a Business and Computer Science pathway, was active in DECA, and completed a summer internship with Opus Bank. Since graduating high school and enrolling in college, she has been working at TVN Advisors during the summer where she has gained more experience in carrying out accounting operations and communicating with clients under the guidance of CPAs and Enrolled Agents. Her goals are to earn her CPA certification and apply her accounting and data analytics skills to a future career in the valuation services department within an aerospace company. Tiffany advises current students to start exploring career interests while in high school, to take advantage of CTE pathway programs and CTSOs, and to participate in the summer internship program. She says "I really enjoyed my internship with Opus Bank's financial team, who graciously presented me with many opportunities in hands-on projects and encouraged me to make connections with other professionals...This exposure truly helped me grow comfortable with networking and realize how intertwined finance and computer programming was to continue to pursue both aspects at college."
La Quinta Business Pathway Student Recognized by CCEMC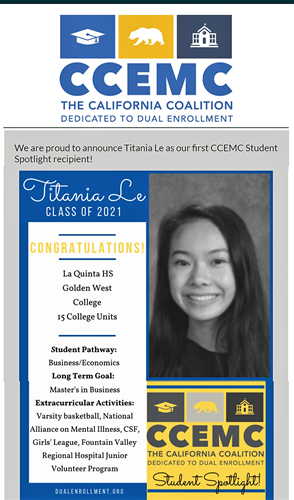 Former Hare HS Student Succeeds in Animation Field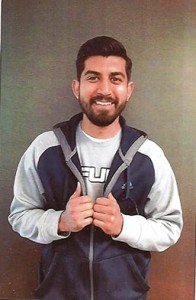 Alfredo Alfaro's career path began at Hare High School where he studied  Animation 1 and 2 with Gloria Wargo, He continued his pathway to 3D animation at Santa Ana College and completed the 3D Animation Certificate program there.
From there, he began internships and networking, entering competitions, and winning a couple of Animation awards. Soon he transferred to Cal State Fullerton to pursue a Bachelor of Arts degree with a concentration in 3D Character Animation.
With a lot of hard work following his passion for Animation he learned of opportunities in video games and movies. At CSU Fullerton he is focusing on improving his techniques and skills in the 3D program Maya. He recently completed a couple of internships for Animation Production positions: one at a tv production company called WindDancer Films and another one soon after called Oomba TV. While interning there he got a big break from DreamWorks Animation for a Post Production internship.
He is now a Production Assistant and Editor at Oomba TV, an amazing place where he gets to play video games and host tournaments of games as part of his job. Alredo says, "I am so very thankful for GGUSD's Career and Technical Education programs for the exposure, training, and creative freedom to learn cutting edge animation and graphics, which have led me to where I am now, in an environment I love, with people I enjoy collaborating with, putting my interests, imagination, and skills to work."
Los Amigos Grad Continues Hospitality Pathway at Culinary Institute of America in Hyde Park, New York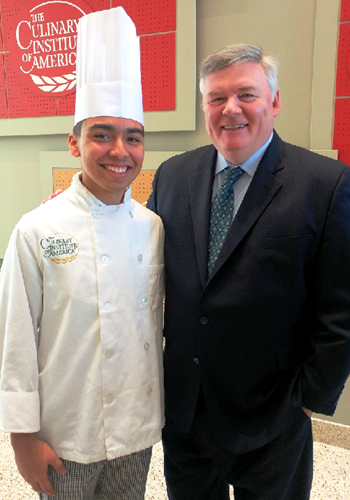 Andres "Andy" Arcos is enjoying post-secondary success at the prestigious Culinary Institute of America in Hyde Park, NY. Considered the world's premier culinary college, the school has produced distinguished alumni such as TV host and author Anthony Bourdain, Chipotle founder Steve Ells, "Iron Chef" Cat Cora, and celebrity chef Rocco DiSpirito. 
At Los Amigos High School, Andy earned a certificate for completing the CTE Hospitality pathway, taking Culinary Arts, Principles of Baking, and Event Catering. He developed his leadership as president of the school Culinary Arts Club, and earned the Young American Award in 2015. 
GGUSD Education Pathway Students Selected for CSUF Residential "Future Teacher" Program
(August 2015)
Several GGUSD students were accepted and attended a 4-day, 3-night residential experience for future teachers at California State University, Fullerton from August 4-7. The program was sponsored by CSUF, JPL/NASA, and the Orange County Teacher Pathway Partnership. These students enjoyed hands-on learning experiences that connected their classroom studies with the actual practice of teaching. The students were exposed to research and best practices in teaching methodology, had hands-on sessions led by CSUF STEM faculty and professional scientists, and enjoyed a field trip to the Jet Propulsion Laboratory/NASA site. Participants received training in pedagogy with an emphasis on STEM education, and all students were able to then teach local elementary students a physical science lesson on rockets. The evenings were filled with fun social activities and the entire experience provided students an exciting preview of college life. Education pathway courses will be available at Santiago and Hare High Schools this fall, including a new dual-college credit course available after school to all 10-12 graders.
Bolsa Grande students Kelly Trinh, Rosemary Cabral, Monique Garcia, and Itzel Rivera

Los Amigos students Danna Garcia, Johnny (Pham) Nam, and Sena (Jennifer) Nam

Santiago students Christopher Martinez and Diana Le
Rancho Alamitos HS student José "Danny" Garcia Wins 1st Place at Festival of Arts of Laguna Beach
(August 2015)
Recently graduated ROP student José "Danny" Garcia won First Place in this year's Festival of Arts of Laguna Beach in the Junior Art Exhibit. His art work was then selected for another award given by the PIMCO Foundation. Danny took automotive technology with Mr. Le as a freshman and later excelled in digital media arts classes with Mr. Walker. Danny created and submitted his award-winning piece as a senior in the spring of this year. He created the piece using 3D graphic design and 3D printing. As one of the nation's oldest and most highly acclaimed juried fine art shows, the Laguna Beach Festival of Arts has offered a showcase for artists for over 80 years. The Festival's prestigious juried art show includes a wide variety of media such as paintings, photography, printmaking, sculpture, jewelry, handcrafted wood and furniture, ceramics, glass and more. Danny's work was one of 6,000 entries in the Junior Art division this year and was one of only 300 pieces selected for display for two months this summer before earning first place in his category.
Former Los Amigos HS Sports Medicine Student Vinnie Diep Participates in CSUF Kinesiology Study Abroad Program in Brazil
(June 2015)
Los Amigos High School Sports Medicine teacher Krista Schweers is delighted that Vinnie has chosen to continue her studies as a Kinesiology student at Cal State Fullerton, and was delighted to hear of her recent experience running a short-term sports clinic at Escola SESC, a high school in Rio de Janeiro, during a summer abroad program.