Student Success Stories
La Quinta Business Pathway Student Recognized by CCEMC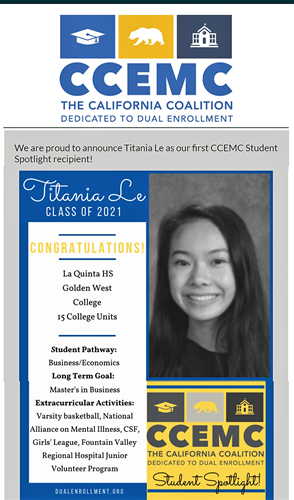 Former Hare HS Student Succeeds in Animation Field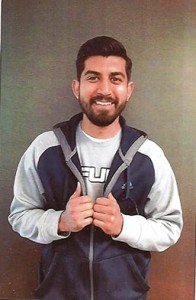 Alfredo Alfaro's career path began at Hare High School where he studied  Animation 1 and 2 with Gloria Wargo, He continued his pathway to 3D animation at Santa Ana College and completed the 3D Animation Certificate program there.
From there, he began internships and networking, entering competitions, and winning a couple of Animation awards. Soon he transferred to Cal State Fullerton to pursue a Bachelor of Arts degree with a concentration in 3D Character Animation.
With a lot of hard work following his passion for Animation he learned of opportunities in video games and movies. At CSU Fullerton he is focusing on improving his techniques and skills in the 3D program Maya. He recently completed a couple of internships for Animation Production positions: one at a tv production company called WindDancer Films and another one soon after called Oomba TV. While interning there he got a big break from DreamWorks Animation for a Post Production internship.
He is now a Production Assistant and Editor at Oomba TV, an amazing place where he gets to play video games and host tournaments of games as part of his job. Alredo says, "I am so very thankful for GGUSD's Career and Technical Education programs for the exposure, training, and creative freedom to learn cutting edge animation and graphics, which have led me to where I am now, in an environment I love, with people I enjoy collaborating with, putting my interests, imagination, and skills to work."
Los Amigos Grad Continues Hospitality Pathway at Culinary Institute of America in Hyde Park, New York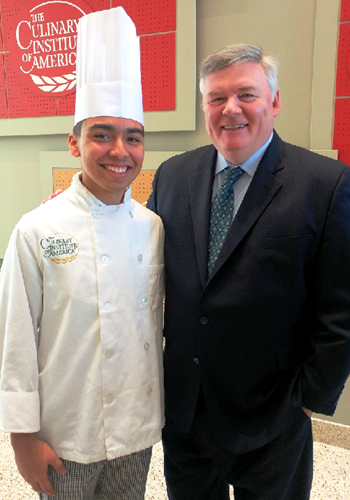 Andres "Andy" Arcos is enjoying post-secondary success at the prestigious Culinary Institute of America in Hyde Park, NY. Considered the world's premier culinary college, the school has produced distinguished alumni such as TV host and author Anthony Bourdain, Chipotle founder Steve Ells, "Iron Chef" Cat Cora, and celebrity chef Rocco DiSpirito. 
At Los Amigos High School, Andy earned a certificate for completing the CTE Hospitality pathway, taking Culinary Arts, Principles of Baking, and Event Catering. He developed his leadership as president of the school Culinary Arts Club, and earned the Young American Award in 2015. 
GGUSD Education Pathway Students Selected for CSUF Residential "Future Teacher" Program
(August 2015)
Several GGUSD students were accepted and attended a 4-day, 3-night residential experience for future teachers at California State University, Fullerton from August 4-7. The program was sponsored by CSUF, JPL/NASA, and the Orange County Teacher Pathway Partnership. These students enjoyed hands-on learning experiences that connected their classroom studies with the actual practice of teaching. The students were exposed to research and best practices in teaching methodology, had hands-on sessions led by CSUF STEM faculty and professional scientists, and enjoyed a field trip to the Jet Propulsion Laboratory/NASA site. Participants received training in pedagogy with an emphasis on STEM education, and all students were able to then teach local elementary students a physical science lesson on rockets. The evenings were filled with fun social activities and the entire experience provided students an exciting preview of college life. Education pathway courses will be available at Santiago and Hare High Schools this fall, including a new dual-college credit course available after school to all 10-12 graders.
Bolsa Grande students Kelly Trinh, Rosemary Cabral, Monique Garcia, and Itzel Rivera

Los Amigos students Danna Garcia, Johnny (Pham) Nam, and Sena (Jennifer) Nam

Santiago students Christopher Martinez and Diana Le
Rancho Alamitos HS student José "Danny" Garcia Wins 1st Place at Festival of Arts of Laguna Beach
(August 2015)
Recently graduated ROP student José "Danny" Garcia won First Place in this year's Festival of Arts of Laguna Beach in the Junior Art Exhibit. His art work was then selected for another award given by the PIMCO Foundation. Danny took automotive technology with Mr. Le as a freshman and later excelled in digital media arts classes with Mr. Walker. Danny created and submitted his award-winning piece as a senior in the spring of this year. He created the piece using 3D graphic design and 3D printing. As one of the nation's oldest and most highly acclaimed juried fine art shows, the Laguna Beach Festival of Arts has offered a showcase for artists for over 80 years. The Festival's prestigious juried art show includes a wide variety of media such as paintings, photography, printmaking, sculpture, jewelry, handcrafted wood and furniture, ceramics, glass and more. Danny's work was one of 6,000 entries in the Junior Art division this year and was one of only 300 pieces selected for display for two months this summer before earning first place in his category.
Former Los Amigos HS Sports Medicine Student Vinnie Diep Participates in CSUF Kinesiology Study Abroad Program in Brazil
(June 2015)
Los Amigos High School Sports Medicine teacher Krista Schweers is delighted that Vinnie has chosen to continue her studies as a Kinesiology student at Cal State Fullerton, and was delighted to hear of her recent experience running a short-term sports clinic at Escola SESC, a high school in Rio de Janeiro, during a summer abroad program.