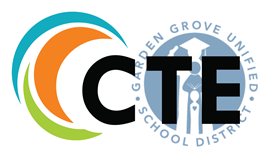 Career & Technical Education
Academic Skills + Personal Skills = Lifelong Success
Garden Grove Unified School District offers rigorous and relevant career and technical education programs and pathways to 7-12 grade students at the intermediate and high schools and to adults in our community at Lincoln Education Center.
Career and Technical Education (CTE) in Garden Grove Unified School District is aligned with California's CTE Model Curriculum Standards, which were revised and adopted by the State Board of Education in 2013, as well as Standards for Career Ready Practice and Common Core State Standards. Instruction follows pathways focused on preparation for post-secondary success and connects core academic content with real-world applications.
CTE course offerings include those taught by full-time single-subject-credentialed teachers holding subject- matter authorization in business, health science, home economics, or industrial and technology education, as well as courses taught by instructors holding Designated Subjects Teaching Credentials in a variety of industry sectors. Students may earn college credits in over 20 high school CTE classes with articulation agreements and via 19 dual credit course offerings. Most CTE courses also meet University of California A-G subject requirements.
CTE pathways offered at GGUSD include the following sectors: Arts, Media, and Entertainment; Business and Finance; Education, Child Development and Family Services; Engineering; Fashion Design; Health Science and Medical Technology; Hospitality; Information and Communication Technology; Fashion; Public Services; and Transportation.
Support for the core academic courses, especially English-language arts, math and science, is embedded and reinforced in all CTE curriculum. STEM (Science, Technology, Engineering, and Math) courses are offered at all intermediate schools with an emphasis on careers in computer science, patient care, engineering, robotics and industrial design. Rigorous and relevant pathways have been developed to align with high-skill, high- demand college majors and careers. Engineering, computer science, and medical pathways have adopted the highly regarded, research-based curricula and professional development programs offered by the nonprofit Project Lead the Way. The culinary program in the Hospitality pathway includes coursework in hospitality management and the California Restaurant Association Education Foundation program ProStart Culinary Arts. ProStart is a rigorous two-year sequence of coursework leading to industry-recognized certifications and college articulation.
CTE courses are offered throughout the school year, before and during the regular school day, after school, and during summer session. Teachers have received training, professional development, and resources in differentiating instruction and assessments for diverse student populations, including English language learners and those with special needs. CTE teachers are included on student Individualized Education Program (IEP) team meetings. The active, hands-on, collaborative nature of CTE coursework benefits a wide variety of students and promotes 21st century skill development, equipping diverse students for lifelong success. Indeed, 80% of GGUSD disadvantaged, English learner (EL), and special population students enroll in at least one CTE course.
The CTE department reviews student GPA, attendance, completion, and graduation data to measure program quality and outcomes, comparing outcomes of students who completed CTE courses vs. the general student population. Two-thirds of GGUSD seniors who completed two or more CTE courses progress to post-secondary education. In addition, the department reviews certification attainment and student performance on common sector assessments developed and used by all CTE consortium member districts. Comprehensive end-of-program assessments taken by GGUSD students in CTE capstone courses are compared with outcomes on the same assessments by students within our district and in Orange Unified School District and Santa Ana Unified School District.
Students are surveyed annually regarding their CTE courses. At the end of the last school year, 96% of students surveyed agreed or strongly agreed that "because of my CTE class, I have gained many new skills that are important and valuable to me." Ninety percent agreed or strongly agreed that "I have a clearer idea about what kind of work I might enjoy and be good at in the future."